Thursday December 15, 2022
Avoid Haste In Dissolution Of Assemblies: Pervez Elahi Tells President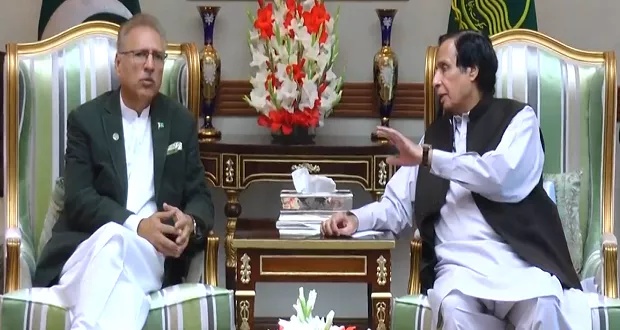 Lahore: Chief Minister Punjab Pervez Elahi has said that haste be avoided in the dissolution of assemblies which will lead to harm.
The CM Punjab was talking to President Dr Arif Alvi in a meeting today at aiwan-e-wazir aala in Lahore. While Pervez Elahi reiterated his stance that the chief minister post is a deposit of Imran Khan.
Pervez Elahi said that today the question of safeguarding the state is first.
On the other hand, President Alvi ensured the CM Punjab his cooperation in the matters dealing with the federal government.
The president added that there is noting anything last in the politics. He said that he wanted to solve the matters amicably.
Pervez Elahi son Monis Elahi and Hussain Elahi were also present in his meeting with the President.
The post Avoid Haste In Dissolution Of Assemblies: Pervez Elahi Tells President appeared first on Abb Takk News.