Tuesday December 20, 2022
All Terrorists Killed In Bannu Operation, Defense Minister Briefs Joint Session Of Parliament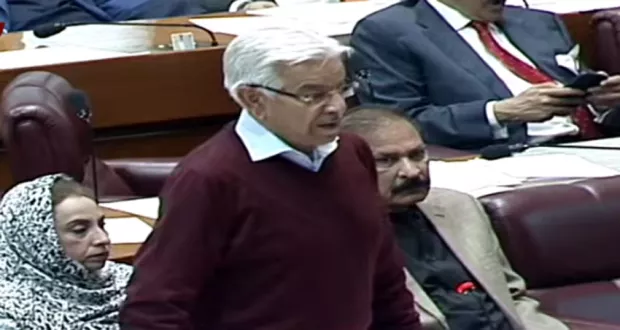 Islamabad: Defence Minister Khawaja Muhammad Asif on Tuesday informed the joint session of Parliament that security forces, in a successful operation, got all the hostages released, detained in CTD compound in Bannu by terrorists.
Speaking in the Parliament, he said the Special Service Group of Pakistan Army started operation at 12:30 pm on Tuesday and got the compound cleared by 2:30 pm. He said all the terrorists were killed in the operation.
The Defence Minister further said that two security officials embraced martyrdom in the operation, while around 15 SSG personnel, including an officer, got injured.
At the outset, The Joint Session of the Parliament offered fateha for the departed souls of various people, including grandmother of Deputy Speaker Zahid Akram Durrani, martyred officials of security forces, who laid their lives in the line of duty in defence of the country, and 12 other people, died in a cylinder blast in Balochistan.
The House also prayed for early recovery of the injured.
The parliament passed several bills. These include: "The Global Change Impact Studies Centre (Amendment) Bill, 2022", "The Public Procurement Regulatory Authority (Amendment) Bill, 2022", "The Pakistan Nursing Council (Amendment) Bill, 2022" relating to registration and training of nurses, midwives and Lady Health Visitors, "The State-Owned Enterprises (Governance and Operations) Bill, 2022", "The Pakistan Global Institute Bill, 2022", "The Regulation of Generation, Transmission and Distribution of Electric Power (Amendment) Bill, 2022", "The Islamabad Capital Territory Prohibition of Interest on Private Loans Bill, 2022", "The Islamabad Compulsory Vaccination and Protection of Health Workers Bill, 2022", "The Pakistan Institute of Medical Sciences (PIMS) Bill, 2022" and "The Pakistan Medical and Dental Council Bill, 2022".
The Speaker has prorogued the Joint Sitting of the parliament.
The post All Terrorists Killed In Bannu Operation, Defense Minister Briefs Joint Session Of Parliament appeared first on Abb Takk News.