Sunday September 18, 2022
Ahsan Calls On Murad, Ensures Provision Of Every Help, Support For Flood-hit People And Areas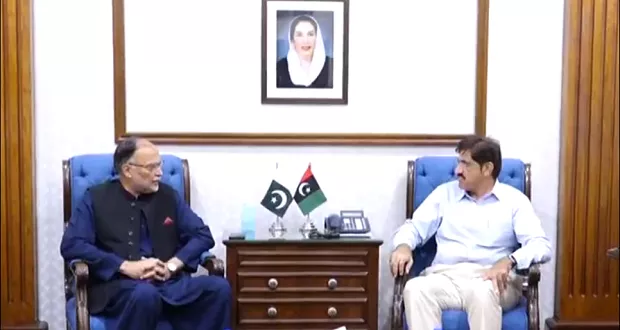 Karachi: Federal Minister for Planning and Special Initiatives Ahsan Iqbal today (Sunday) ensured Chief Minister Sindh Syed Murad Ali Shah provision of every support and resource to help the province to tackle relief and rehabilitation of flood-hit people and areas.
The Federal Minister Ahsan Iqbal called on the CM Sindh at the CM house in Karachi.
The duo deliberated upon flood situation, drainage of water and matters related to relief and rehabilitation of the flood-hit people and areas.
The CM Sindh complained that the province needed 1.5 million tents, on the other hand, we have been provided only two and half lakh tents.
Ahsan Iqbal said that Prime Minister Shahbaz Sharif has directed us to keep in touch with the CM Sindh and any thing needed for the province, the federal government will provide it.
Syed Murad Ali Shah apprised that the people and children are getting ill adding that there is a need of restoration of roads and rail network in the province so that essential commodities could be transported.
The CM Sindh apprised further that the irrigation system and agriculture lands will have to be restored in the flood hit areas.